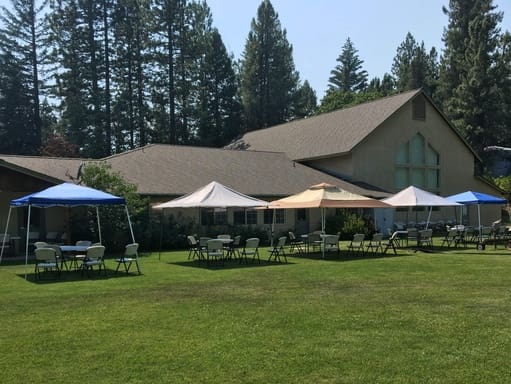 Church Community Connects Better with Hunter Fiber
Customer:
Mount Shasta SDA Church
Industry: Religious Organization and Educational Institution
Location: Mount Shasta, California
Hunter Products & Services: Symmetrical 100Mbps Fiber Internet
The Mount Shasta SDA Church is located in a California town with a population of just over 3,000.  In addition to holding services for its members, the church also organizes free community health programs and has a small school serving approximately twenty students.
The lack of access to a quality internet connection was detrimental to the church's activities—especially amid the COVID-19 pandemic.
When members noticed that Hunter Communications was installing fiber-optic infrastructure close to their building, the church contacted Hunter to install service.
The Challenge: Unstable Internet Connection
Before Hunter's fiber-optic internet, the connectivity at Mount Shasta SDA was unstable and often interrupted by weather conditions.  Ed Miller, the church's Maintenance Coordinator recalled, "The internet was almost non-existent.  It was completely unreliable.  Snow, wind, and trees interfered with our connection."
The problem became exacerbated during the pandemic.  Some members were unable to meet in person, and the church could not hold remote services due to their unstable and slow internet.
Hunter's Fiber-optic Solution
By installing Hunter's fiber-optic internet, the Mount Shasta SDA Church will be able to hold virtual services, offer more resources to its students, and improve their community health programs.
The church saved money on the build cost because Hunter allowed them to custom tailor the construction process to their specific needs and capabilities.
Flexible Installation
The church was in a unique position to cover the cost of installation and assist in the construction needed to get fiber to their campus.  They coordinated with two neighbors who provided the equipment for construction and digging.
"We were very impressed with the integrity of the company.  Hunter allowed us to do certain parts of the install we were capable of.  They were easy to work with, and if there was a problem, they helped us solve it," said Miller.
Hunter bored to multiple locations, and the church provided all the trenching.  Hunter Account Executive Andy Hackett noted, "They installed their own conduit to save on construction costs."
The cost of bringing fiber to a small, rural town can be expensive, but with Hunter's flexibility during the process, the church was able to provide its members with access to a faster and more reliable connection.
We were very impressed with the integrity of the company.  Hunter allowed us to do certain parts of the install we were capable of.  They were easy to work with, and if there was a problem, they helped us solve it.
Dedicated Symmetrical Fiber-Optic Internet
After the installation, the church has noticed a significant difference in their internet's capabilities.  Unlike radio waves or copper cable, fiber is unaffected by temperature, severe weather, or electromagnetic interference.  With Hunter's fiber-optic technology, their connection has been stable, consistent, and fast.
The church is now able to offer virtual services to its parishioners, provide additional teaching resources at the school, and improve the community health program experience.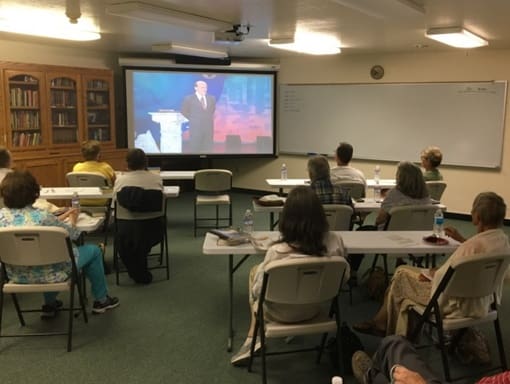 Virtual Services
Before Hunter, holding a remote service was not an option.  The church had difficulty even downloading files.  Now, with fast upload speeds, the church will be able to seamlessly livestream their Community Bible Meetings and Worship Services.
Miller remarked, "If we get shut down, we can all still meet.  We have the connectivity we need to do live feeds, and that could made all the difference in the world."
School Resources
The church's school is a unique home study, group co-op, where students learn everything from math and music to life skills and carpentry.
With the addition of fiber-optic internet, the school has more teaching resources and educational tools.  "The school's teachability has improved.  They have more access to teaching aids like streaming documentaries," observed Miller.
Free Health Programs
The Mount Shasta SDA Church offers free community health programs and has previously hosted an AMEN Free Clinic which offered free general medical, dental, and vision services to anyone in the community.
According to Miller, high-speed and reliable internet is necessary to make the registration and follow up processes simpler and more streamlined.  With fiber internet, the participants will be able to enjoy livestreamed community health classes and cooking demonstrations.
Community Impact
According to Miller, Mount Shasta SDA has more projects which will benefit the community.  Those plans are only possible because of their new fiber-optic internet.  Miller said, "We haven't implemented all of the projects yet, but now we have the hardware and infrastructure to do it."
"Would I recommend Hunter?  No question I would."  
—Ed Miller, Mount Shasta SDA Maintenance Coordinator