Hunter Communications received two awards for Excellence in Telecommunications at the 2021 Oregon Connections Telecommunications Conference.
Hunter, jointly with Douglas Fast Net, won the Oregon Connections award for Excellence in Telecommunications Partnerships for increasing the availability of wireline fiber internet to communities throughout the state.
Keith Grunberg, the Director of Carrier, Government, and Wholesale Service at Hunter, won the award for Excellence in Telecommunications Projects and Regional/Local Strategies for his contributions in providing fiber-optic services to rural areas in Oregon and to first responders during the wildfires COVID-19 pandemic.
Excellence in Telecommunications Partnerships
Hunter Communications has developed an important partnership with Douglas Fast Net (DFN) which has aided in the growth of Southern Oregon's fiber-optic backbone.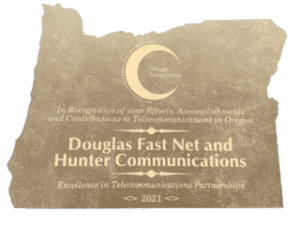 Hunter Communications, in partnership with DFN, was awarded a bid to help establish a new fiber-optic backbone along the I-5 corridor and Old HWY 99 routes between Medford and Eugene.  In concert with Link Oregon, a non-profit organization which provides high-speed fiber broadband connectivity to public and non-profit sectors, Hunter and DFN created a new express route which directly connects the WIX in Eugene to OIX at Oregon Hall.  The group worked closely together to execute deployment and delivery under a tight deadline.  Ultimately, Hunter and DFN established a critical part of the network which connects ESD's, Universities, and Community Colleges throughout the state.
Hunter and DFN have also partnered on projects to build the fiber-optic backbone for 5G and wireless services throughout Oregon.  When Hunter began engineering for the AT&T 5G rollout in Eugene, they partnered with DFN to support routes between the two companies.  Because DFN was working on the Link Oregon backbone in Lane County, there were mutual build paths between the two companies.  The partnership was a key component in the success of the project.
Additionally, Hunter partnered with DFN to establish fiber-optic connections to thirty new T-Mobile towers in Douglas, Coos, Josephine, Jackson, Klamath, and Lake Counties.  Prior to the partnership, these towers only supported limited microwave services.  Now, because of the work between Hunter and DFN, rural and remote areas of Oregon can access up to 10 Gig wireless speeds supported by a fiber-optic backbone.
Hunter Communications is grateful to partner with and work alongside DFN to collaborate on these projects.  The companies have established a trusting relationship which has been the foundation of success in each of these efforts.
Excellence in Telecommunications Projects and Regional/Local Strategies
Keith Grunberg has been a key contributor in providing Hunter Communications' services to rural areas in Oregon and to various groups amidst historic wildfires and an unprecedented pandemic.  Because of his dedication and hard work on multiple projects, rural residents, firefighters, wildfire victims, and federal entities have gained access to fiber-optic telecommunications.
On behalf of Hunter, Keith compiled and provided all the documentation for the Rural Digital Opportunity Fund grant submission.  With his help, Hunter Communications was awarded $19.2 million dollars to bring their fiber-optic network to Lane and Klamath Counties. Hunter is grateful for Keith's work and dedication to the rural broadband expansion initiative.
Keith also worked with the US Department of Agriculture and the US Forest Service to establish telecommunications to Command Centers for all wildfire efforts in Southern Oregon in 2020 as well as the Bootleg Fire in Klamath and Lake Counties in 2021.  These emergency situations required immediate action, and Keith accelerated internal processes to quickly deliver communication services.  By coordinating the Construction, NOC, and IT departments, Keith helped Hunter Communications launch DIA access for both the command centers within 24 hours.
In addition, Keith coordinated with FEMA to organize wireless internet access for forty families displaced by the Almeda Fire.  He worked with FEMA and the Army Corp of Engineers to submit the proper paperwork and acquire the permits.  Because of Keith's persistence and swift action, those families in temporary housing received internet access within a month.
Finally, during the COVID-19 vaccination efforts, Keith coordinated with FEMA, Homeland Security, and the Department of Defense to establish secure lines of communication.  Working closely with the IT and Engineering Departments at Hunter, Keith was able to provide DIA in strategic places in the Jackson County Events Center within just two weeks.
Hunter Communications is proud of Keith's efforts and rapid coordination during the fires and the pandemic.  His ability to rally both the resources and people at Hunter under tight deadlines was vital in delivering the necessary communication services without delays.  He has truly demonstrated a commitment to excellence in connecting communities across Oregon.