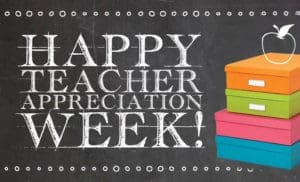 Not all superheroes wear capes, some teach!
If this past year has shown us anything, it's how much teachers matter. Being flexible has always been part of a teacher's job description and this past year we've seen how important that quality is. The COVID-19 outbreak required teachers to change their entire lesson plans and methods virtually overnight to accommodate distance learning.
Now, teachers must be prepared to handle remote learning, in-person classrooms, as well as teaching in-classroom and virtual students at the same time. Plus, they may be called upon to perform tech support at a moment's notice. Yikes!
If you're looking for ways to celebrate the teachers in your life, here are a few suggestions:
Cards handmade by the students themselves are a treasured gift
It's hard to go wrong with chocolate
A bouquet of flowers or a plant (that's easy to care for)
Gift bags or baskets filled with useful or fun items
Gift cards to a coffee shop, restaurant, or a meal delivery
The Praise app in Microsoft Teams lets users show appreciation
Visit AdoptAClassroom.org and make a tax-deductible donation to a K-12 teacher to support their classroom (since many teachers spend their own $$ on supplies)
Many resources are available at the National PTA website
As Mr. Rogers once said, "Anyone who does anything to help a child in his life is a hero to me."
Hunter's #Thank-A-Teacher Discount
Teachers work to make sure their students have the resources they need to reach their potential, yet today's teachers are often called upon to teach and work remotely via their home internet connection.
To recognize the valuable contribution our teachers make, Hunter is currently offering teachers our top tier residential high-speed 1 Gb/1Gb fiber-optic home internet service for $30 a month FOR LIFE. (Normally $99.99/month). Teacher's should contact CustomerService@HunterFiber.com from their ".edu" email account and forward a copy of their teacher ID to obtain their Hunter Thank-A-Teacher discount.
Limited time offer valid for Hunter Communications ("Hunter") residential Internet services only. Additional taxes, fees, and surcharges apply. Services and offers provided by Hunter are not available in all locations. Hunter reserves the right to change this offer at any time. A credit approval and deposit may be required. Customer speed experiences will vary, and wi-fi speeds are not guaranteed due to conditions outside of network control, including customer location and equipment. All products and services listed are subject to terms, conditions, and guidelines on our Policy & Agreements page. Additional restrictions may apply.