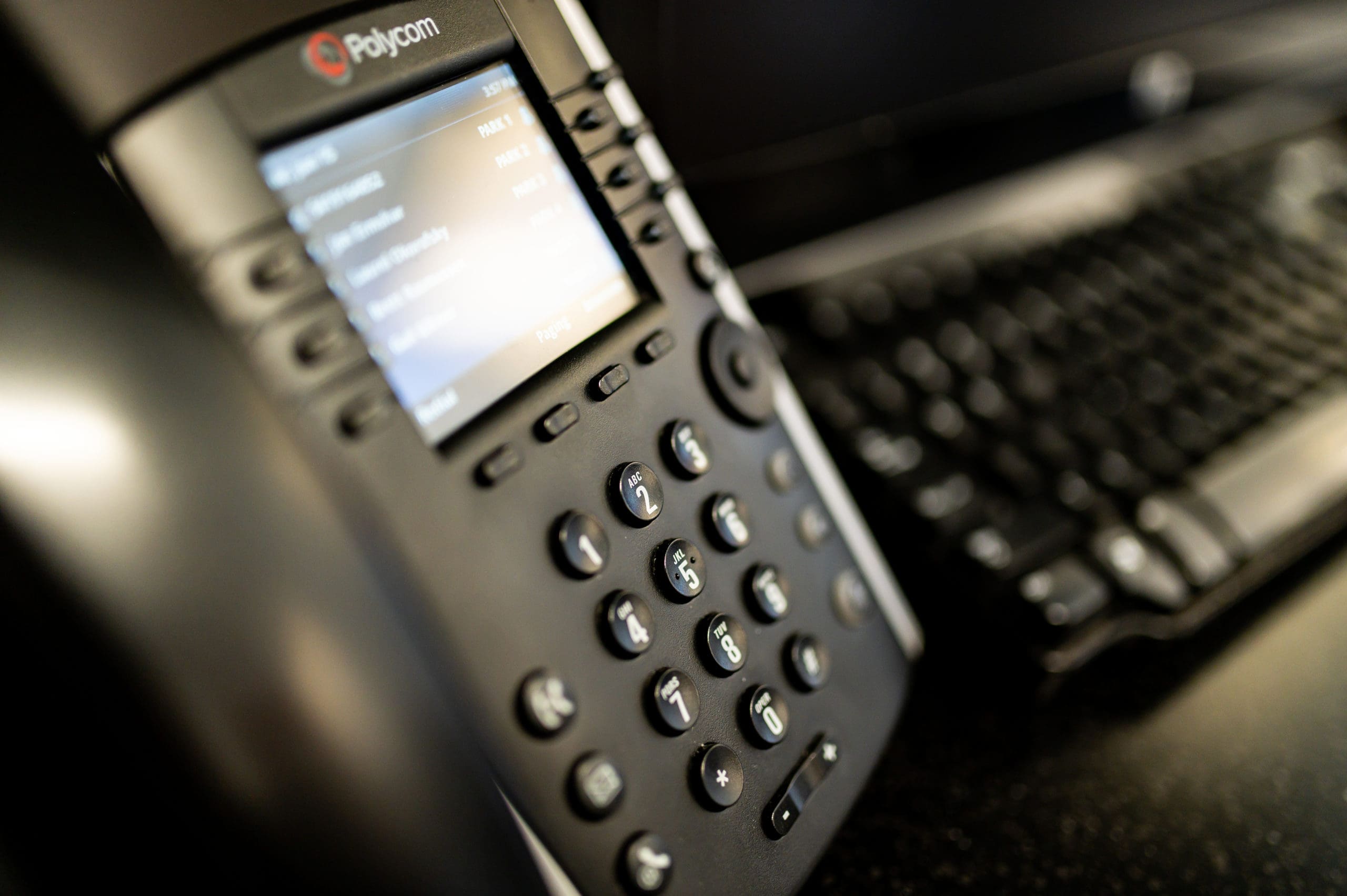 Voice over Internet Protocol
VoIP is short for Voice over Internet Protocol.  It enables businesses to make calls using an internet connection rather than a traditional, analog phone line.  With a phone service provided through the internet, companies using VoIP can make calls from desk phones, computers, and even their personal cell phones.
Voice over IP systems have become the standard for communication services in business.  Most companies are transitioning away from traditional phone systems and implementing VoIP.   In fact, 61% of businesses have switched to VoIP and some reported saving up to 50% on their communication costs1.  Companies have also seen improvements in productivity, mobility, and call quality. 
Benefits of VoIP for business
1. Increased productivity with streamlined communications
With VoIP, businesses can synergize both their internet and their phone services.  This not only saves money but also improves productivity because it streamlines their communication systems.
Unlike traditional phones, VoIP also offers more features which can increase business efficiency.  VoIP offers access to features such as instant messaging, call recording, CRM integration, call queues, and on-hold marketing or music.  On average, small businesses using VoIP have improved productivity by 77%2.  
2. Scalability and Mobility
VoIP systems, because they use the internet rather than copper phone lines, are more easily scaled.  Rather than installing more phone lines, companies with VoIP can easily add users to their accounts.
Additionally, VoIP services offer flexibility for remote work and travel.  Once the VoIP phone is configured, businesses can take it anywhere.  
3. Reliability and HD Quality
Rather than using traditional copper phone lines to transmit calls, VoIP uses a high-speed internet connection.  Because VoIP provides phone service over an internet connection, both the reliability and quality of the call are better.  In fact, VoIP can provide high-definition sound.  
Some VoIP services also have the capability to continue communications despite a power or network outage.  The feature will forward the call to a cell phone if the system has determined the desk phone is unreachable.  
Hosted VoIP is a cloud-based phone system which requires no physical hardware at the business.  It allows businesses to access their phone systems on any connected device.  This offers flexibility for remote workers, traveling, or hybrid employees.
Because calls are processed at a remote location rather than on-site, communication continues even though a business' facility is down.  Because the system is hosted at a different location, when a business loses power or their network is down, the call is forwarded to a predetermined number allowing communications to continue.
 Hunter's Fiber-Powered Voice Services
At Hunter Communications, we offer a best-in-class Hosted VoIP service powered by our secure fiber network.  Not only does our fiber-optic voice over IP service provide the best quality sound, but it also offers enhanced reliability and security.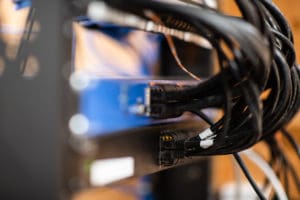 Because we keep our customers' voice traffic on a dedicated, secure network, Hunter can ensure and control the Quality of Service.  Unlike providers who offer services over the open internet, Hunter's hosted VoIP is managed to be both more secure and more reliable.
Our dedicated voice network uses state-of-the-art Juniper POE switches.  This switch platform is built and maintained on a separate managed internal network dedicated to the voice services we provide.  It enables us to separate voice and data traffic to ensure quality and reliability of communications.
Because calls are processed via the Hunter Network—not at the business site—communication can continue even if the power or the network is down.  When our system detects that a phone is unavailable, the call will be forwarded to the customer's predetermined number.
With Fiber-Powered Voice, Hunter provides a phone system with 24/7 support including implementation, updates, maintenance, and ongoing service.  Our customer service team is local and always available to help.
Functionality includes:
Internal and external call routing to all of your existing devices

Remotely controlled business lines through an online portal 

Easily add new employees, call tree options, and call monitoring

Simultaneous ring and music-on-hold options 

Auto attendant simulating a live operator and directing calls 

Mobility package to place and receive calls through a personal cell phone