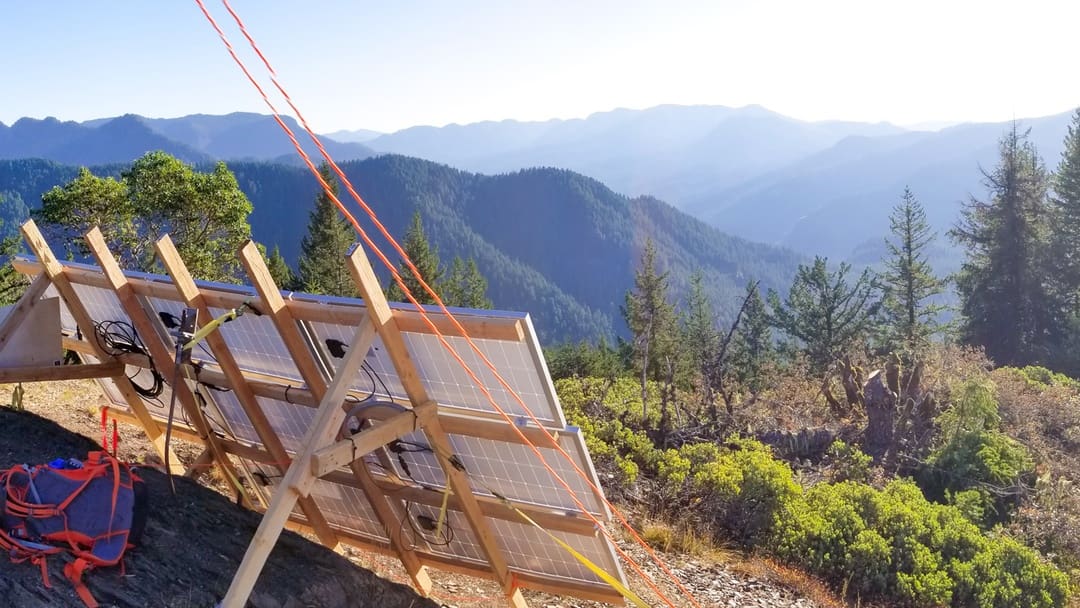 Volunteering with Oregon Internet Response
In September of 2020, wildfires devastated hundreds of acres, homes, and businesses in rural Lane county outside of Eugene.
The team at XS Media (now Hunter Communications) joined forces with numerous network professionals from around the Pacific Northwest to set up temporary internet solutions as Oregon Internet Response (OIR).  What transpired was an intuitive mix of creativity, collaboration and expert innovation.
Project Manager Jason Robinson began volunteering with OIR in October.  Initially, his goal was to contribute additional manpower wherever needed out in the field, but the role quickly became administrative as he began to attend meetings as an organizer to set agendas and outline conclusions.  Much of his volunteer time was spent in a remote capacity during weekly online meetings.  However, he also did some work in  the field, giving him a unique perspective on the intricate complexities of each project.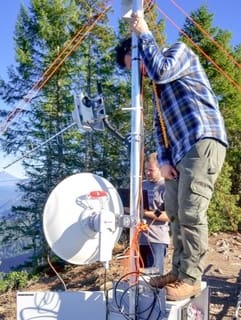 Restoring Connections
During one of the projects, team combined knowledge and imagination to figure out how they could use an old phone infrastructure to create a temporary phone connection in that area.  Because the area lacked cell service, OIR realized the value of the old copper phone wire phone wire.
The fire had destroyed the main phone lines traveling long distances back to town, leaving small islands of wire nearest to the homes.  OIR connected new temporary phone service to those phone wire islands, allowing residents to get in contact with emergency services and family. According to Jason, this project was one of many examples of the highly skilled team of network experts coming together to make the absolute most of the limited resources available to them.
Jason also assisted OIR in hauling a heavy steel tower segment up the hills in rural forested areas to reinforce an access point in one of the devastated locations. 
Aside from field work, he volunteered in some of the small rural towns.  Emergency Wi-Fi locations were strategically placed near community centers, schools, and churches that people used to connect to each other for gathering supplies and support.  Each site was different, but in some cases, the infrastructure and vegetation surrounding the access point area was burnt away, leaving just the parking lots untouched.
While these areas often presented the challenging realities of large-scale devastation to the community, the temporary connection spots were like beacons in the dark.
Record-breaking fires destroyed almost everything in their path.  Jason described the critical zones as eye-opening and bleak, "It was like a comms black hole."  Jason recalled what it was like to drive through devastated locations in need of network support, where rows of homes were burnt to their foundations and left with only standing chimneys in the rubble. 
Rebuilding after the fires
Along with the shock and grief, came overwhelming pride in the volunteer contributions of the entire OIR team.  "It was so rewarding to look out at this network that was built from recycled or scrounged materials, as a response to a massive community devastation," said Jason.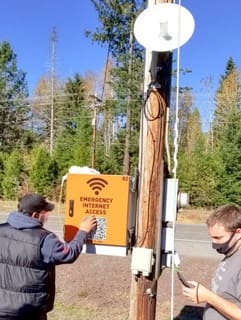 In the beginning, Jason knew that this project would be intensely important to him.  Working with OIR enabled him to collaborate with a team that was equally invested in giving back to the community.  Looking back on the project, Jason said, "In some small ways, I helped contribute to something very big, which was crucial to people in our community."
According to Oregon Live, the fire destroyed 500 homes and telecommunications infrastructure in the area.  
Four months later, the families of East Lane County are still rebuilding. 
Jason said that one of his greatest takeaways from his volunteering experience was that every single person who participated in the relief effort was treated by the group as a valuable part of each undertaking. "When you've got the right people together, no contribution is too small," he noted.
With the right team of committed individuals, no journey is too daunting.  XS Media (now Hunter Communications) will continue to adamantly pursue initiatives that align with the mission to inspire personal trust within the communities and strengthen the commitment to the region.
Hunter Communications partners with local community entities throughout our service areas.  To learn more, visit our partners page.