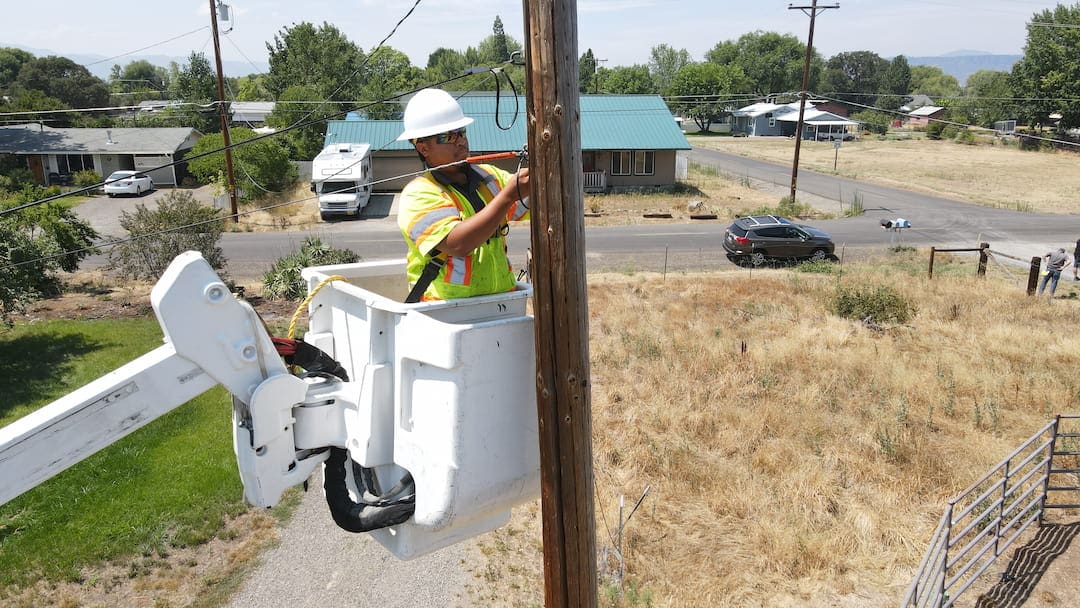 High-Speed, Reliable Internet for the Future
High-speed internet has become a necessity. We need it to work, learn, and access healthcare. We use the internet to video chat with our family and friends.  Our businesses need reliable connections for cloud computing and processing e-commerce orders.
While there are several forms of internet connectivity, not all broadband technologies are created equally.  Fiber-optics are the fastest, most reliable, and only future ready technology available.
Let's take a closer look at why fiber is best for internet access now and in the future.
1. Fastest Download/Upload Speeds
In 2015, the FCC defined "broadband internet" as a connection with minimum speeds of 25 Mbps download and 3 Mbps upload.
For many modern needs, however, these speeds are not fast enough.  Downloading games, streaming 4K movies, and sharing large image files all require a high-speed connection.
Fiber-optic internet is the fastest method for downloading (and uploading) files.  Take a look at this comparison:
Download times for the Lord of the Rings Trilogy (61 GB)1:
Dial-Up (50 kbps): 113 days
Minimum Broadband (25 Mbps): 5.4 hours
Fast DSL (100 Mbps): 81.3 minutes
Gigabit Fiber (1,000 Mbps): 8.1 minutes
Because fiber uses light to transfer data, it can transmit information at a much faster rate compared to other technologies.  Fiber-optic internet allows consumers to seamlessly game, stream, and share on their favorite platforms without delay.
Want to know how your internet performs?  Test your current speeds!
2. Fiber Internet Reliability
Like speed, reliability is a key feature of a quality internet connection.  Outages and interruptions can be frustrating and even isolating for those with unreliable access.
Copper-based technologies like DSL and cable require providers to slow speeds during peak hours to limit the system's load.  Because copper has limited bandwidth, reducing consumer use is often required to prevent outages.
Both copper and satellite technologies are subject to interference from severe weather.  Since these connections can be affected by moisture, electromagnetic waves, and temperature fluctuations, they are at risk for frequent outages.
Fiber, on the other hand, is more reliable because it uses glass strands to transmit light pulses.  This makes it less prone to outside interference and provides more bandwidth, eliminating the need for throttling during peak hours.
With superior reliability, fiber is the best option available for continuously connecting homes and businesses to the internet.
3. The Future Needs Fiber
Our world is filled with connected devices.  This network is known as the Internet of Things (IoT) and includes smart home features like security systems, smart TVs, and even appliances. As the IoT expands, the connection required to sustain it must also grow.
Fiber is the best internet technology because it is scalable and future ready.  Once fiber strands are in place, the infrastructure doesn't need to be altered to improve speed or bandwidth.  By simply upgrading the transmission equipment, fiber internet can meet the demands of the future.
As new technologies become more widespread and the IoT expands, more bandwidth and faster speeds will be required in order to seamlessly deliver those experiences.  With the ability to grow alongside our increasing demands, the future is fiber.
Why Fiber-Optic Internet?
Just like electricity, we need high-speed internet to participate in both the economy and society.  Because it is fast, reliable, and built for the future, fiber-optic technology is the best option for internet access in the modern world. Improving the availability of fiber-optic internet is important for the future of our infrastructure.  Hunter Communications is committed to this ongoing mission.  Our goal is to bring fiber internet to homes and businesses throughout Southern Oregon and Northern California.
Hunter believes that fast and reliable internet access is a vital component of modern life.  That's why we offer fiber-optic internet directly to your home at a price for life without any contracts.