As Hunter expands throughout Oregon, we receive many questions about our plans and timelines.  In this blog, we put together answers to the top 5 most common questions we get about our fiber internet service and expansion.  
1. When will Hunter Fiber be available in my neighborhood?
Designing and constructing an entirely new fiber-optic network takes time.  Our crews work hard every day to bring fiber internet to neighborhoods throughout Oregon.
To view areas in which Hunter Fiber is currently available, please visit our service maps. 
On the map, neighborhoods that can sign up and install service now are highlighted in green.
Areas marked in orange are currently under construction.  Residents living in those areas are notified when construction starts and when service becomes available.
Our expansion areas are marked red.  These neighborhoods have already undergone quite a bit of planning and design, but have not yet started construction.  Residents living in these areas will be notified when construction starts and when service becomes available.
Our teams are always researching and evaluating other potential areas for expansion, but these don't make it onto the website until the plans have been approved and a degree of planning has been achieved.
2. Why aren't you coming to my area?  
Your neighborhood or city might be under evaluation, but we do not speak publicly about these areas until we put them on our website.
Various departments in Hunter work together to identify cities or neighborhoods for potential expansion.  Several factors play a role in how we decide where to bring our network next including:
Area interest: Through our website, Hunter collects interest information which helps us determine which areas are in high demand for fiber internet.  If you'd like Hunter to come to your neighborhood, please fill out our interest form.
Existing infrastructure: Hunter serves many governments, schools, and hospitals throughout the state.  These "anchor institutions" enable us to more quickly deploy residential fiber in the area.
Number of homes: Where we choose to expand our network will depend on how many homes we can serve in an area.  Our goal is to deliver better internet to as many people as possible, as fast as possible.
3. I saw your trucks in my area.  Does that mean service will be available at my house soon?
Maybe!  Our teams work throughout the state on a variety of projects including providing fiber internet to local governments, schools, businesses, and residences.  We are also working on larger projects which could include building our backhaul throughout the state or delivering fiber to new 5G towers.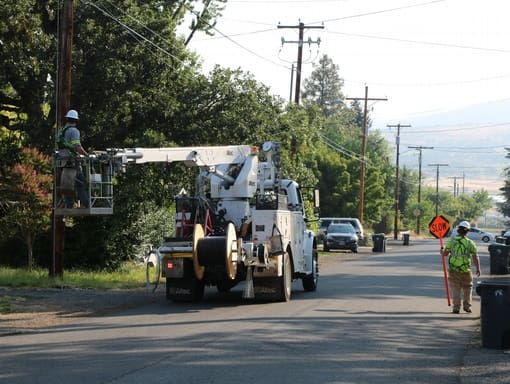 If you see a Hunter truck working on your street, it could be for any of these reasons.  To verify if Hunter is expanding to your neighborhood, please visit our service maps.
4. My neighbor can get Hunter Fiber.  Why can't I?
For your home to be connected to Hunter's service, one of our fiber-optic lines must be attached to your house from a utility pole or connected underground.  The distance of your house from the nearest fiber case is a major factor in determining if your house will be considered "serviceable".
Even though your house could be a block away from our infrastructure or just across the street, it still might not be serviceable. 
5. How can I get Hunter to come to my neighborhood?
If you're interested in bringing Hunter Fiber to your neighborhood, you can do three things: 
1. Fill out our online interest form.  Interest is one of several factors we use to determine where we should expand our network next.
2. Educate your neighbors on fiber internet and how it can benefit your community.
3. Ask your neighbors to fill out our online interest form.
Intersted in Hunter Fiber?  Check to see if service is available at your address today!