On Monday, September 7th, XS Media (now Hunter Communications) took note of the fire warnings that predicted poor air quality in Eugene, a need for first responders, and the potential loss of belongings and infrastructure.
The next day, a large wildfire threatened one of our most important towers, which provides internet service to the Eugene Airport.
Working with Network Operations team, we created a backup support option for the homes and businesses fed by that tower.
We also called the owner of the site location to make sure he knew the fire was approaching his home rapidly, but he was already evacuating with his family and watching the plume of smoke move toward his house.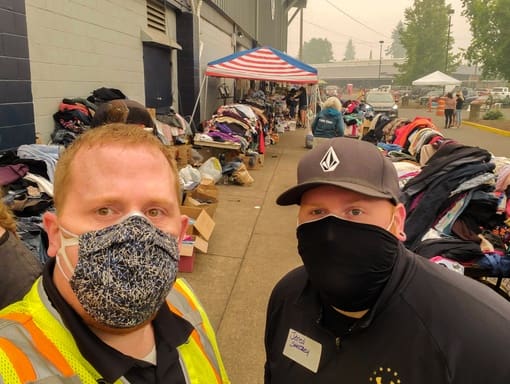 Fortunately, firefighters managed to stop the fire from spreading, stopping just 200 yards short of our tower.  Throughout the week, our network took several hits as the fire and smoke continued to engulf East Lane County.
On September 10th, we reported a total of twelve sites without line power and three operating on temporary generators.
In a matter of days, Eugene had record break hazardous air quality.  While XS Media (now Hunter Communications) experienced operational setbacks, the community was suffering from evacuations, damaged homes, and uncertainty.
Our team decided to volunteer to help the community in crisis.  Project Manager Jason Robinson and General Manager Stephen Parac worked at the Lane County Emergency Shelter relief zone organizing donations and assisting recently evacuated community members.
Stephen described the relief zone.  It was bigger than a football field with several rows of covered fold-up tables used as clothing, supply, and meal stations.  It also had service stations for relief organizations such as the Red Cross and the Humane Society. 
Some people had time to prepare and gather supplies before evacuating, while others entered the relief zone without food or clothes to wear the next day.
The support between local businesses, community preservation teams, and relief organizations, was inherently uplifting and efforts moved at a very fast pace.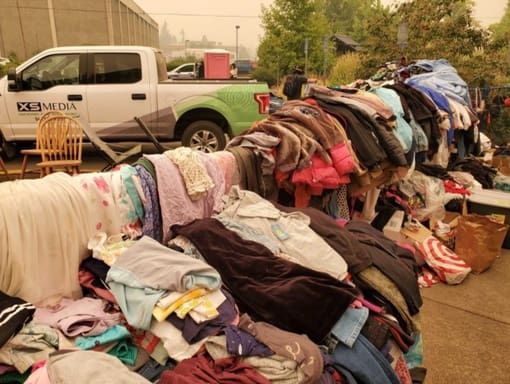 Because the relief zone did not have enough tabletop space to organize the massive influx of donations, team members Alex and Jared brought new tables and volunteered to set up a temporary Wi-Fi and power station for evacuees to contact family and friends, and charge their devices.
The experience was a humbling reminder of how important communication is during a crisis.
Stephen recounted, "Whenever you volunteer, you feel this connection to humanity because you're doing something in service of others.  I saw people at their lowest point, but I know that I made at least a tiny difference by being there."
Hunter Communications is committed to providing our communities with the best internet connection.  Click to see if service is available in your area.