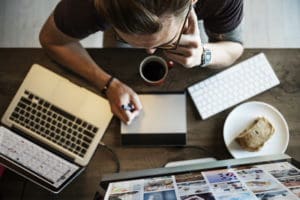 Working remotely became the norm for many organizations when the Covid-19 pandemic forced an abrupt change to the workforce model that many believed was already on its way.   Stanford economist Nicholas Bloom expects that days worked from home will increase by 4x in the post-pandemic world.  After all, employers can recruit a distributed workforce with the skills they are looking for and potentially reduce their real estate costs.
As a return to normalcy becomes more prevalent each day, Hunter Communications has a solution for your employees who will continue to work remotely as well as those who are making a full return to the office.
Reports of Success at the New Home Office
Many surveys show that employees are eager to continue their remote work after COVID restrictions are lifted.  Despite the concerns of many, teleworkers have reported motivation to do their work, ability to meet their deadlines, and complete projects without interruptions.  Working from home offers employees more freedom in where they live and a better work-life balance.  In fact, according to a Pew Research Poll, 38% of new remote workers reported an improvement in their balance between family and work responsibilities.
The Digital Divide Continues
Though the world is starting to show signs of a return to normalcy, it's highly likely that our workplace model has irrevocably changed.  But change always comes with growing pains.  Many remote employees lack the adequate bandwidth to work from home effectively.  Bloom reports that 35% of Americans are unable to telecommute due to poor or no internet at their homes and that only 65% have internet speeds to support video conferencing.
With these growing pains in mind, it's time to reevaluate some of our business tools and practices. What does it take to equip a remote workforce for long term success?  Two essential tools for productive telecommuting are fiber-optic internet and reliable phone service.
Introducing Hunter Home Office
Providing remote employees with the same technology as their colleagues can help ensure their productivity, engagement, and ability to collaborate.  Most importantly it will can help establish the congruence your business needs to stay successful.  With Hunter Home Office your employees will stay connected, engaged, and productive – from anywhere, at any time.
Fiber-Optic Internet and Voice Service For Your Business Location – Anchor service at your brick-and-mortar location gives all of your employees to reliably stay connected. Say good-bye to service interruptions from cable and DSL modems.
Residential Fiber-Optic Internet (where available) – Hunter Communications is expanding our footprint throughout Southern Oregon and
Northern California. If any of your employees live in a Hunter fiber-optic neighborhood we can connect them to symmetrical internet service
with speeds as fast as 1Gb/1Gb.
The Polycom VVX 450 Business IP Phone with HD Voice — This remote business handset delivers superior, high-definition sound with advanced voice processing capabilities and features.
MaX Meeting —Enable your employees to conduct face-to-face meetings, chat, share desktops, applications, and whiteboard with anyone, anytime, anywhere.
MaX UC Desktop: Soft Client and Cellular Soft Client —A fully featured soft phone to send and receive voice calls, instant messages, or video calls from any internet-connected device.
Let Hunter Communications customize a solution to ensure your employees

have the tools they need to stay productive.